Continuous modulation for CO₂ systems
From large hypermarkets to small c-stores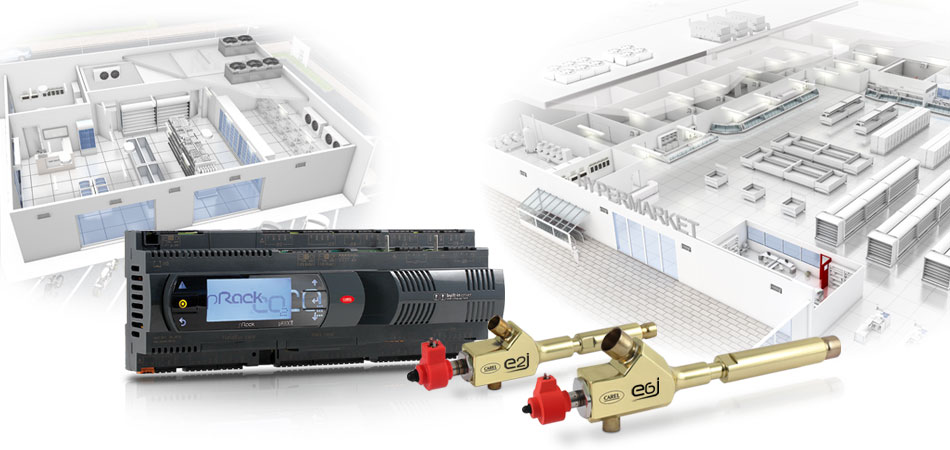 pRack pR300T represents the complete offering for the control and management of centralised CO2 compressor racks. Its main strengths are user simplicity, energy saving and high efficiency.
pRack is moreover the first controller on the market that is able to control up to three compressor suction lines, medium and low temperature plus parallel compressors, gas cooler and up to two heat recovery systems..
Just one platform capable of managing small to large compressor racks:
flexible HW platform;
innovative energy saving algorithms;
extensive monitoring and integration capabilities.
pRack integrates management of electronic modulating ejectors (EmJ), the cutting-edge solution to increase the energy efficiency of transcritical CO2 systems in warmer climates:
Direct expansion work recovery due to Venturi effect;
Higher suction pressure on all MT compressors.
pR multi DC controls multiple DC compressors on the same line, reaching new energy efficiency levels on CO2 compressor racks:
complete integration with pR300T platform;
up to 4 MT and 2 LT compressors;
optimum compressor envelope control and synchronisation;
wide range of modulation, perfect capacity control, food quality;
ideal for small and medium formats.
For more information visit our website and our stand in MCE hall 22 booth A31/A41.