three-phase (IP55) with RS485
FCR3*00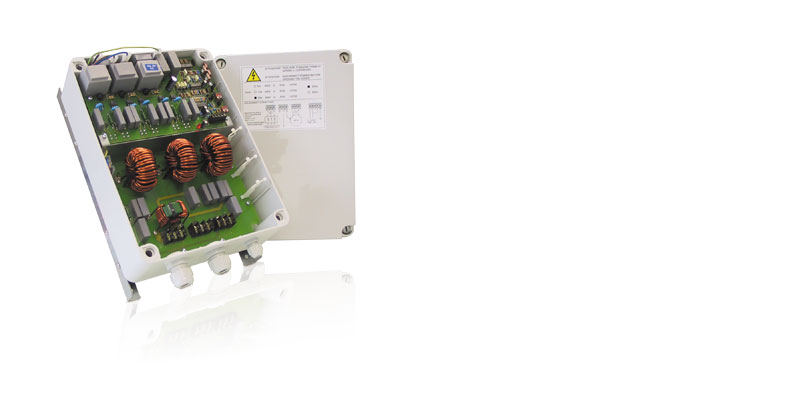 Plus

The parameters can be configured via the serial connection or using a programming key. The main parameters are:
• select Min/Cut-off speed;
• set delay at start-up;
• select minimum and maximum speed;
• set linear or quadratic function;
• directly manage output speed (override);
• select output speed when an alarm is active (0%, 50%, 100%);
• read internal operating temperature

General characteristics

The FCR3 devices are slave microprocessor controllers that manage three-phase asynchronous motors. The are mainly used to control condenser fan motors on refrigeration units. The control signal may be analogue 0 to 10 V, PWM, 0 to 20 mA or Modbus RTU over RS485 serial; the devices also feature a digital input and a digital output for alarm management.
The serial port is used for remote supervision of all the parameters in the controlled system. Up to 255 addresses can be set on the Modbus network.
Documentation
Technical
Quick Guide

* Entries are ordered by date

Code
Description
Language
Date *
Release

Code

+040010025

Description

Sonde e sensori / Probes and sensors Guida alla scelta e all'installazione ottimale Selection and optimal installation guide

Language

ENG ITA

Date

26/08/2019

Release

1.1

Code

+040010026

Description

'Sondes et capteurs / Fühler und Sensoren Guide pour le choix et l'installation optimale Auswahl- und Installationshilfe

Language

FRE GER

Date

26/08/2019

Release

1.1

Technical Leaflets

* Entries are ordered by date

Code
Description
Language
Date *
Release

Code

+050004066

Description

Régulateurs de vitesse triphasés FCR 3 avec connexion port série RS485 Modbus / FCR-3-Dreiphasenwechselspannungsregler mit serieller RS485-Modbus-Verbindung

Language

FRE GER

Date

27/05/2015

Release

1.1

Code

+050004065

Description

Regolatori di velocità trifase FCR 3 con collegamento seriale RS485 Modbus/FCR3 series three-phase fan speed controller with Modbus RS485 serial connection

Language

ENG ITA

Date

27/05/2015

Release

1.1

Manuals

* Entries are ordered by date

Code
Description
Language
Date *
Release

Code

+030222151

Description

FCR3 Régulateur triphasé connexion RS485Modbus Dreiphasiger Drehzahlregler RS485-Modbus-Verbindung

Language

FRE GER

Date

27/06/2016

Release

1.2

Code

+030222150

Description

FCR3: regolatore di velocità trifase collegamento RS485 Modbus three-phase speed controller RS485 Modbus connection

Language

ENG ITA

Date

27/06/2016

Release

1.2
Commercial
Brochure

* Entries are ordered by date

Code
Description
Language
Date *
Release

Code

+3000068IT

Description

FCR3: Regolatori di velocità a taglio di fase 400Vac ncon collegamento seriale RS485 Modbus RTU

Language

ITA

Date

19/12/2013

Release

1.0

Code

+3000068DE

Description

FCR3 400-Vac-Dreiphasenwechselspannungsregler mit serieller RS485-Modbus-RTU-Verbindung

Language

GER

Date

19/12/2013

Release

1.0

Code

+3000068FR

Description

FCR3 Régulateurs de vitesse à découpe de phase 400Vca avec raccordement sériel RS485 Modbus RTU

Language

FRE

Date

19/12/2013

Release

1.0

Code

+3000068EN

Description

FCR3: 400 Vac phase-cutting speed controllers with Modbus RTU RS485 serial connection

Language

ENG

Date

19/12/2013

Release

1.0