The simplest solution for high efficiency chillers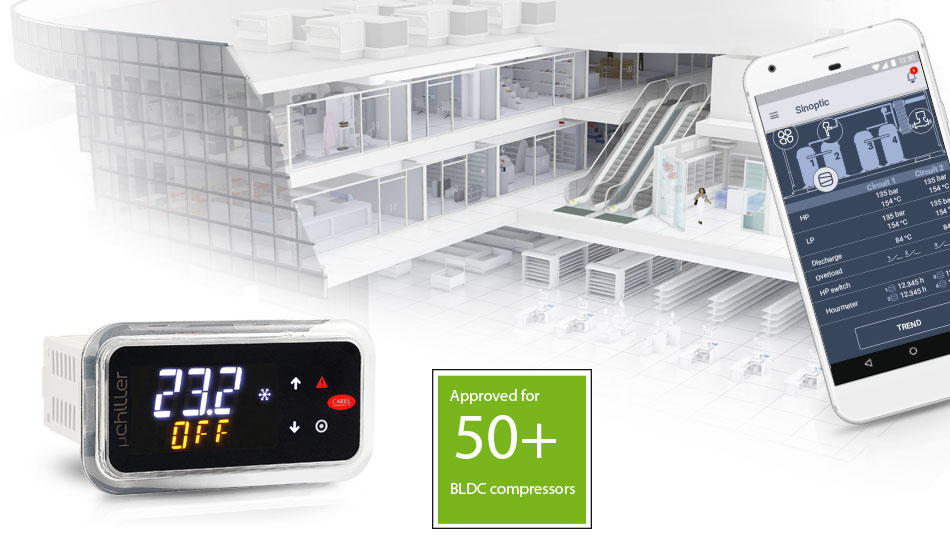 µChiller is the new CAREL control for managing air cooled and water cooled chiller/heat pump applications
The distinctive feature of μChiller is complete control of high-efficiency units through integrated management of devices such as electronic expansion valves and brushless DC compressors. This ensures greater compressor protection and reliability and, at the same time, high unit efficiency. The application works with more than 50 models of BLDC compressors made by different manufacturers, all tested and certified by CAREL in its laboratories. μChiller provides complete control of the compressor envelope at different frequencies, with the aim of guaranteeing compressor operation in ideal conditions, thus ensuring maximum reliability.
The maximum configuration manages 2 compressors per circuit, with a maximum of 2 circuits.
The range of models includes wireless connectivity with NFC (Near Field Communication) as standard, as well as Bluetooth on dedicated models, allowing interaction with mobile devices using the CAREL "APPLICA" app, making it easier to configure parameters and commission the unit in the field.
"APPLICA represents a major innovation in the evolution of CAREL's parametric controllers", underlined Roberto Sandano, Group Head of Marketing, HVAC. "With APPLICA, the unit can be configured in one single operation, exchange information with a remote service, and users can receive alerts in the event of alarms. Moreover, when new features become available on the market, the App can be simply updated to guarantee continuity of service, even on units that have already been installed". The APPLICA APP is available on Google Play for devices with Android operating system.
For more information visit our website and our stand in MCE hall 22 booth A31/A41.