gaSteam
UG*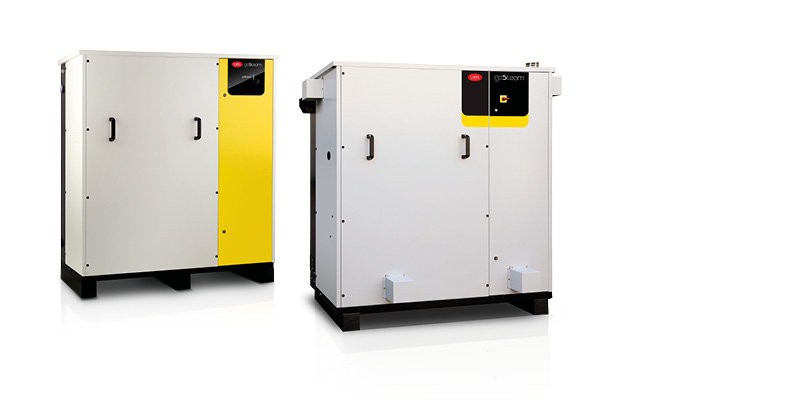 Plus

The upgraded gaSteam range improves its strengths and introduces new ones, becoming a benchmark of excellence among the gas-fired humidifiers currently available on the market.

Both indoor and outdoor versions
45, 90, 150, 180, 300 kg/h sizes (and 450 kg/h for the outdoor version only)
continuous modulation from 25 to 100% (12.5% for the 180 kg/h and 300 kg/h models);
accuracy of ± 3% RH
touchscreen graphic display;
advanced connectivity to local network (web server) and remote supervisor (cloud)
possibility to use wireless probes
stainless steel boiler and heat exchanger with heat exchange efficiency up to 96%;
low NOx emissions;

General characteristics

Steam humidification takes a significant step forward thanks to the latest-generation Carel controller, bringing the new and expanded gaSteam range (45, 90, 150, 180, 300 kg/h) in line with the most advanced industry 4.0 standards.

The new neat and elegant design includes several new features, such as a touchscreen graphic display for an unprecedented user experience. Now available in both indoor and outdoor versions (IAS 12-94), ensuring easy installation on AHUs installed on rooftops and avoiding the need for sources of gas inside the building. The exclusive design of the heat exchanger ensures high efficiency (94-96%) and easy maintenance.

Made from stainless steel, it guarantees long life even in heavy-duty working conditions and with any type of feedwater. The price gap between gas and electricity makes gaSteam the ideal choice for more demanding applications, where steam is required for many hours a day, saving thousands of euros a year.

Continuous modulation of steam flow-rate means this unit is also suitable for precision applications. Easy to install, it features a room-sealed combustion chamber with premix burner and gas control valve with double safety closing; it is moreover equipped with multiple safety devices and comes with ETL and CE certification (attested by TÜV-DVGW).
Documentation
Commercial
Success Story

* Entries are ordered by date

Code
Description
Language
Date *
Release

Code

+4000040IT

Description

Precision Paper Converters - Controllo dell'umidità nell'aria in un processo industriale grazie al gas

Language

ITA

Date

05/06/2015

Release

1.0

Code

+4000040EN

Description

Precision Paper Converters - Air humidity control in an industrial process using gas fuel

Language

ENG

Date

05/06/2015

Release

1.0

Code

+4000032DE

Description

Komfortable Arbeitsplätze: Regelung der Luftfeuchtigkeit durch Gasdampfbefeuchtung. Torre Realia, die High-Tech-Bürogebäudearchitektur

Language

GER

Date

08/04/2014

Release

1.0

Code

+4000032EN

Description

Office comfort: air humidity control using gas-fired humidifiers. Torre Realia, avant-garde office architecture.

Language

ENG

Date

08/04/2014

Release

1.0

Code

+4000032ES

Description

El confort en la oficina: control de la humedad del aire gracias a la humectación por gas. Torre Realia, una arquitectura de vanguardia para oficinas comerciales.

Language

SPA

Date

08/04/2014

Release

1.0

Code

+4000032IT

Description

Il comfort in ufficio: controllo dell'umidità dell'aria grazie all'umidificazione a gas. Torre Realia, un'architettura d'avanguardia per uffici commerciali.

Language

ITA

Date

08/04/2014

Release

1.0

Code

+4000032FR

Description

Le confort au bureau: régulation de l'humidité de l'air grâce à l'humidification à gaz. Torre Realia, une architecture innovante pour bureaux d'entreprises.

Language

FRE

Date

08/04/2014

Release

1.0

Brochure

* Entries are ordered by date

Code
Description
Language
Date *
Release

Code

+3000193IT

Description

Umidificazione diretta: Soluzioni all'avanguardia per ambienti industriali e commerciali

Language

ITA

Date

15/11/2019

Release

1.1

Code

+3000018EN

Description

Humidity matters! CAREL humidifiers, a solution for every need

Language

ENG

Date

26/09/2019

Release

4.0

Code

+3000018DE

Description

Die Feuchte zählt! CAREL-Befeuchter, eine Lösung für jedes Anliegen.

Language

GER

Date

26/09/2019

Release

4.0

Code

+3000018ES

Description

¡La humedad es importante! Humidificadores CAREL, una solución para cada necesidad

Language

SPA

Date

26/09/2019

Release

4.0

Code

+3000067EN

Description

gaSteam Gas-fired humidifier for the highest-efficiency humidification

Language

ENG

Date

09/04/2019

Release

2.1

Code

+3000067IT

Description

gaSteam umidificatore a gas per umidificare con la massima efficienza

Language

ITA

Date

09/04/2019

Release

2.1

Code

+3000018IT

Description

L'umidità è importante! Umidificatori CAREL, una soluzione per ogni richiesta

Language

ITA

Date

19/02/2015

Release

3.0

Code

+3000067DE

Description

gaSteam: Der "grüne" Gasbefeuchter für energieeffizientes Befeuchten

Language

GER

Date

13/11/2013

Release

1.0

Code

+3000067ES

Description

gaSteam:Humidificador a gas, la solución "green" para humectar ahorrando

Language

SPA

Date

13/11/2013

Release

1.0

Code

+3000067FR

Description

gaSteam:Humidificateur au gaz, l'éco-solution pour humidifier tout en économisant

Language

FRE

Date

13/11/2013

Release

1.0

Code

+3000067NL

Description

gaSteam: Gasgestookte bevochtiger, de groene oplossing om te bevochtigen en geld te besparen

Language

DUT

Date

13/11/2013

Release

1.0

Code

+3000067ZH

Description

Brochure Gasteam

Language

CHI

Date

13/11/2013

Release

1.0

Code

+302238597

Description

Cold Rooms

Language

RUS

Date

12/09/2007

Release

1.0

Code

+302235433

Description

Контроль влажности в текстильной промышленности

Language

RUS

Date

02/07/2007

Release

1.0