humiSteam Basic
UEY*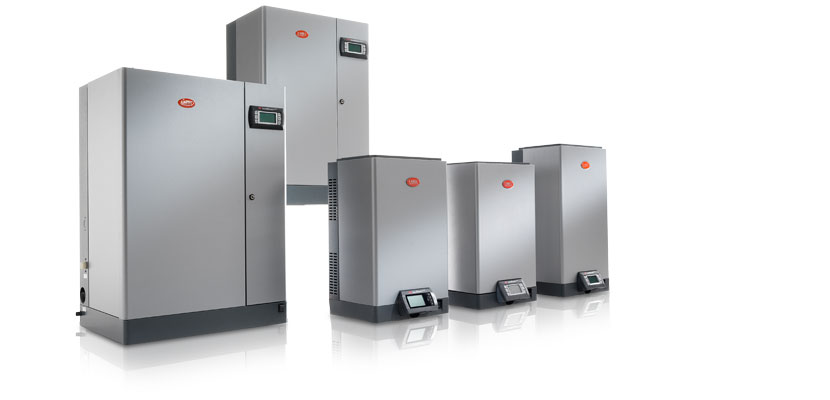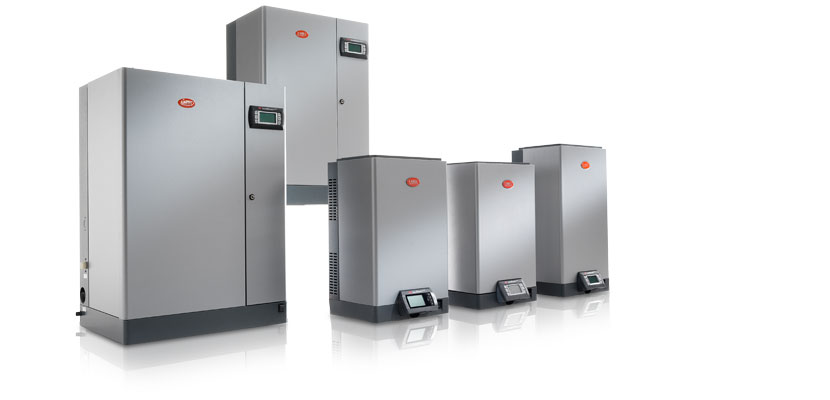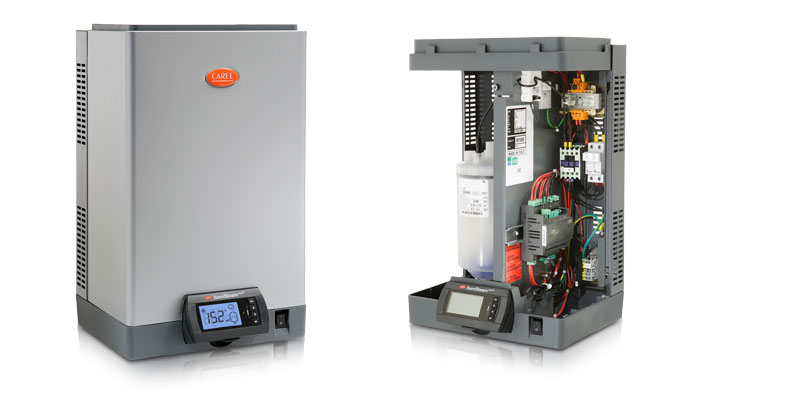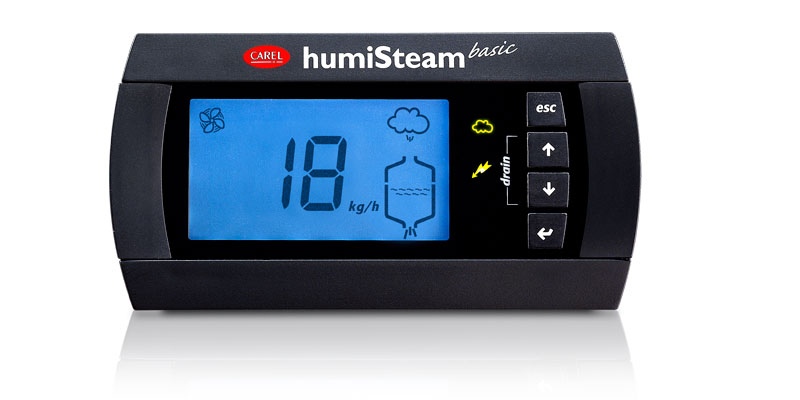 Plus

• AFS system (Anti Foaming System): detects foam to prevent droplets of water being carried by the steam;
• cylinders with galvanised electrodes and anti-scale filter at bottom, openable cylinders also available;
• steam production with continuous modulation from 20% to maximum rating ;
• built-in conductivity sensor and control software to optimise energy efficiency and maintenance costs, with constant performance throughout cylinder life.
• automatic water drain after 3 days of inactivity

General characteristics

humiSteam basic (Y) is suitable for installation in civil environments, offices, hospitals and industrial facilities, and is designed for installation both in rooms, using the steam blower, and air ducts, using the linear steam distributors.




humiSteam basic is ideal for applications where steam production is controlled by an external signal, i.e. BMS or humidistat, and comes in a range from 1.5 to 65 kg/h.




Steam production is controlled by an external signal:




• ON/OFF mode: a simple contact (for example, a humidistat) starts/stops steam production.




• proportional mode: the humidifier produces a quantity of steam that is directly proportional to the signal (0-10 V, 2-10 V, 0-20 mA, 4-20 mA) generated by the external controller, always between 20% and 100% of maximum capacity.




Type "Y" humidifiers have a display with numbers and icons that shows the operating conditions and any diagnostic information extremely clearly and intuitively.




In addition, they come with RS485 interface with Modbus protocol for remote configuration and control via BMS.
Documentation
Technical
Quick Guide

* Entries are ordered by date

Code
Description
Language
Date *
Release

Code

+040000075

Description

humiSteam Basic- UEY hydraulic quick guide

Language

ENG ITA

Date

09/11/2009

Release

1.0

Manuals

* Entries are ordered by date

Code
Description
Language
Date *
Release

Code

+0300040SV

Description

humiSteam x-plus Användarmanual Befuktare

Language

SWE

Date

13/02/2020

Release

1.6

Code

+0300042RU

Description

humiSteam Basic

Language

RUS

Date

21/11/2019

Release

1.6

Code

+0300042SP

Description

humiSteam Basic

Language

POR SPA

Date

21/11/2019

Release

1.6

Code

+0300042IE

Description

humiSteam Basic

Language

ENG ITA

Date

21/11/2019

Release

1.6

Code

+0300042FD

Description

humiSteam Basic

Language

FRE GER

Date

21/11/2019

Release

1.6

Code

+08C0042EZ

Description

humiSteam 加湿器/humidifiers

Language

CHI ENG

Date

16/10/2017

Release

1.0

Code

+030220311

Description

Humiset

Language

ENG

Date

01/09/2014

Release

2.2

Code

+030220310

Description

humiSet Humidifier Programming Tool

Language

ITA

Date

01/09/2014

Release

2.2

Code

+03U0042EN

Description

humiSteam Basic

Language

ENG

Date

10/05/2013

Release

1.3

Code

+03C0042EZ.pdf

Description

humiSteam 加湿器/humidifiers

Language

CHI ENG

Date

10/05/2013

Release

1.3

Code

+0300043EN

Description

humiSteam Basic- Addendum manual

Language

ENG

Date

02/12/2009

Release

1.0

Code

+030220632

Description

humiSteam Basic: manual del usario/ user manual

Language

ENG SPA

Date

20/01/2009

Release

2.3

Code

+030220631

Description

humiSteam Basic

Language

FRE GER

Date

20/01/2009

Release

2.3

Code

+030220630

Description

humiSteam Basic: User manual/ Manuale d'uso

Language

ENG ITA

Date

20/01/2009

Release

2.3

BIM files

* Entries are ordered by date

Code
Description
Language
Date *
Release

Code

BIM files humiSteam

Description

Language

ALL

Date

11/03/2020

Release

R0
Commercial
Brochure

* Entries are ordered by date

Code
Description
Language
Date *
Release

Code

+3000193NL

Description

Directe bevochtiging Geavanceerde oplossingen voor industriële en commerciële omgevingen

Language

DUT

Date

15/11/2019

Release

1.1

Code

+3000193ES

Description

Humectación directa Soluciones avanzadas para ambientes industriales y comerciales

Language

SPA

Date

15/11/2019

Release

1.1

Code

+3000193DE

Description

Direkte Raumbefeuchtung Innovative Lösungen für die Industrie und den Handel

Language

GER

Date

15/11/2019

Release

1.1

Code

+3000193EN

Description

Direct humidification: Advanced solutions for industrial and commercial environments

Language

ENG

Date

15/11/2019

Release

1.1

Code

+3000018EN

Description

Humidity matters! CAREL humidifiers, a solution for every need

Language

ENG

Date

26/09/2019

Release

4.0

Code

+3000018DE

Description

Die Feuchte zählt! CAREL-Befeuchter, eine Lösung für jedes Anliegen.

Language

GER

Date

26/09/2019

Release

4.0

Code

+3000095RU

Description

humiSteam the rational choice for any application

Language

RUS

Date

17/03/2015

Release

1.0

Code

+3000095ZH

Description

humiSteam 各种加湿应用的明智之选

Language

CHI

Date

17/03/2015

Release

1.0

Code

+3000095KR

Description

humiSteam

Language

KOR

Date

17/03/2015

Release

1.0

Code

+3000095PL

Description

humiSteam racjonalny wybór dla każdego z zastosowań

Language

POL

Date

17/03/2015

Release

1.0

Code

+3000095PT

Description

humiSteam a escolha racional adequada a todas as aplicações

Language

POR

Date

17/03/2015

Release

1.0

Code

+3000095ES

Description

humiSteam la elección racional adecuada para cualquier aplicación

Language

SPA

Date

17/03/2015

Release

1.0

Code

+3000095DE

Description

humiSteam Die vernünftige Wahl für jede Anwendung

Language

GER

Date

17/03/2015

Release

1.0

Code

+3000095FR

Description

humiSteam le choix rationnel adapté à chaque application

Language

FRE

Date

17/03/2015

Release

1.0

Code

+3000095EN

Description

humiSteam the rational choice for any application

Language

ENG

Date

17/03/2015

Release

1.0

Code

+3000095IT

Description

humiSteam la scelta razionale adatta ad ogni applicazione

Language

ITA

Date

17/03/2015

Release

1.0

Code

+3000018IT

Description

L'umidità è importante! Umidificatori CAREL, una soluzione per ogni richiesta

Language

ITA

Date

19/02/2015

Release

3.0

Code

+30C240551

Description

印刷应用领域 的湿度控制

Language

CHI

Date

27/05/2008

Release

1.0

Code

+302238347

Description

humiSteam: 全新升级 电极式加湿器

Language

CHI

Date

01/03/2008

Release

1.0

Code

+302238345

Description

humiSteam: a evolução da espécie dos umidificadores com elétrodos

Language

POR

Date

01/03/2008

Release

1.0

Code

+302238597

Description

Cold Rooms

Language

RUS

Date

12/09/2007

Release

1.0