Digital technology for system management

Serena Ometto, Sales & Marketing Manager - Services Department, will be a guest speaker at the 38th Aicarr National Convention on "Buildings and systems for the future climate", to be held as part of MCE, on 29 June.
The title of the meeting, "Buildings and systems for the future climate", reflects the hope of a rapid start to that what is commonly called the energy transition, a process involving widespread redevelopment and renovation of existing buildings with the aim of reducing their energy consumption as much as possible. In this context, Serena's speech is intended to highlight how digital solutions can play a fundamental role in ensuring sustainable system control and energy consumption over time.
The Energy Performance of Building Directive and the Data Act Regulation also recognise this role. The former outlines how a monitoring system can simplify management and reduce on-site inspections, effectively formalising a digital system logbook. The latter, still in the definition phase, identifies the rules for effective sharing and processing of information among all possible users.
Modern data mining and machine learning techniques now make it possible to aggregate the data collected and consequently provide effective analysis of system performance. Specifically, normalisation logic and modelling of expected behaviour are used to analyse systems that differ either due to the outside conditions or the use of different technologies. This makes it possible to highlight any deviations from optimal performance and focus the work of experts on the cases that are actually critical.
Several examples relating to systems installed in different locations will show how a benchmark between different systems can be very useful for defining the priority of the work required and making the best decisions to achieve the system efficiency objectives, bringing effective savings in energy consumption and running costs.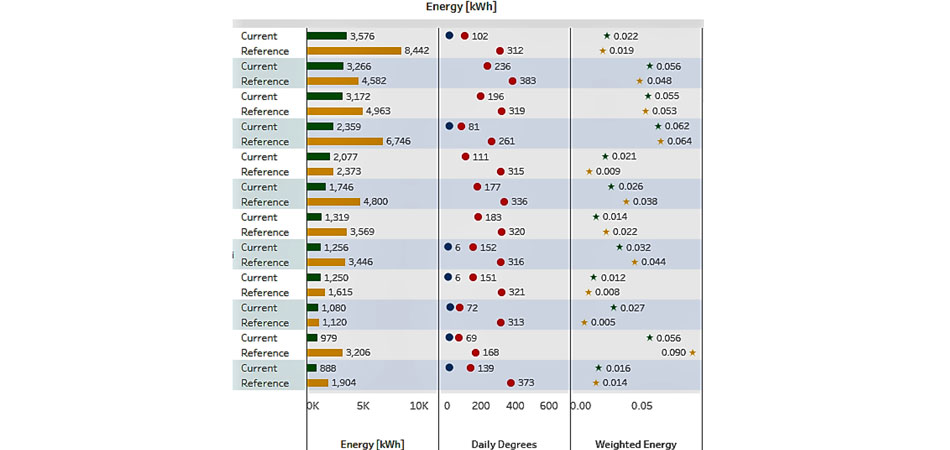 Comparison between systems based on energy consumption over four weeks during winter with heating operation active.
The analysis refers to the four weeks prior to last month.
Download
---
Complete services solution for CAREL humidifiers

RED optimise - Service Portfolio for Retail Applications